This topic discusses activating Stonefield Query Studio. See the Stonefield Query help file (SFQuery.chm) for information on activating the report designer.
When you run Stonefield Query Studio, if your copy isn't activated, a Welcome dialog appears informing you how many days you have left to use the program without activating it. Studio runs in unactivated mode for up to 30 days after you run it for the first time. If choose to activate, the Add License dialog appears, allowing you to activate the program. You can simply click the Cancel button to continue if you don't wish to activate it at this time.
You must activate Studio within 30 days or it stops working.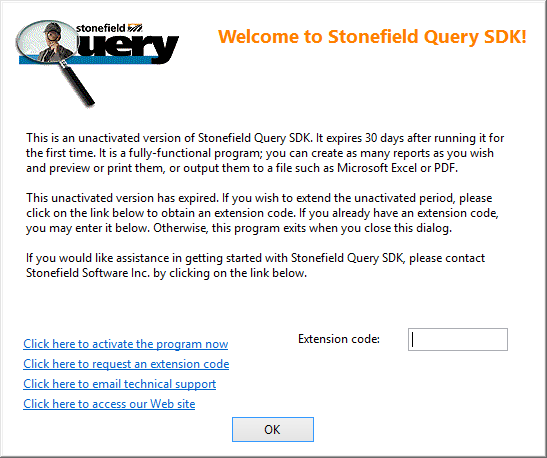 There are a couple of ways you can add a license:
If you have a serial number and an Internet connection, you can click the Online button to obtain your activation code immediately. The activation code is automatically filled in; you can then click the OK button to complete the activation for that license. If something goes wrong (for example, if the Web server is down), you get a warning message and have to try again later.

If your computer accesses the Internet using a proxy server, you'll have to tell Studio about that server by adding the following information to Data.INI, which exists in the Data subdirectory of the program folder:

  [Proxy]
  Server=*servername*
  UserName=*username*
  Password=*password*


In place of servername, put the name or IP address of the proxy server. In place of username and password, put the user name and password to access the proxy server. These two items aren't required if user name and password aren't specified for the proxy server.

Contact Technical Support to obtain an activation code. Enter the activation code and click the OK button.
For more information on how licensing works, see the Licensing topic.
---
© Stonefield Software Inc., 2018 • Updated: 02/18/16
Comment or report problem with topic